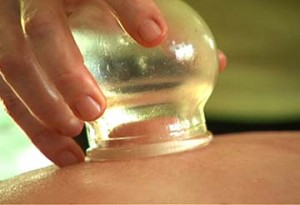 ​Cupping: An Introduction
Cupping refers to an ancient Chinese practice in which a cup is applied to the skin and the pressure in the cup is reduced (by using change in heat or by suctioning out air), so that the skin and superficial muscle layer is drawn into and held in the cup. In some cases, the cup may be moved while the suction of skin is active, causing a regional pulling of the skin and muscle (the technique is called gliding cupping)
The specific origin of Cupping Therapy remains in obscurity – the consensus is that the action of suction has been part of therapeutic efforts throughout human history, migrating with human tribes along migratory routes. These ancient cultures used hollowed out animal horns, bones, bamboo, nuts, seashells and gourds to purge bites, pustules, infections and skin lesions from the body, and many are still in use today. Ancient healers also used Cupping devices to draw evil spirits out of the body and to balance the humors. Earthenware and metal were fashioned into Cupping vessels before the development of glass.
What is Cupping THerapy
Cupping therapy is an ancient Chinese form of alternative medicine in which a local suction is created on the skin; practitioners believe this mobilizes blood flow in order to promote healing.[1] Suction is created using heat (fire) or mechanical devices (hand or electrical pumps). It is known in local languages as Meyboom,baguan/baguar, badkesh, banki, bahnkes, bekam, buhang, bentusa, kyukaku, giác hơi, Hijamah, kavaa (ކަވާ), mihceme,[2] and singhi among others.
Through either heat or suction, the skin is gently drawn upwards by creating a vacuum in a cup over the target area of the skin. The cup stays in place for five to fifteen minutes. It is believed by some to help treat pain, deep scar tissues in the muscles and connective tissue, muscle knots, and swelling.
here is reason to believe the practice dates from as early as 3000 B.C.; the earliest record of cupping is in the Ebers Papyrus, one of the oldest medical textbooks in the world, describes in 1550 B.C. Egyptians used cupping. Archaeologists have found evidence in China of cupping dating back to 1000 B.C. In ancient Greece, Hippocrates (c. 400 B.C.) used cupping for internal disease and structural problems. This method in multiple forms spread into medicine throughout Asian and European civilizations.